In December 2022, China announced nationwide relaxations to its Zero-COVID policy. Following the national announcement, each Chinese province starts to ease the local COVID-19 restrictions gradually. With the easing of local restrictions, public exposure to the virus is hitting the highest rate in 2020-2022.
For many Chinese people, the relaxation announcement is good news because it means the days of traveling limitations and daily COVID-19 tests finally come to an end. However, many people think the ease of the Zero-COVID policy can bring another wave of breakout.
As a dropshipper or business entrepreneur, you may also wonder how will the relaxations affect your eCommerce business. Thus, this article is going to share some latest information about the COVID situation in China. Also, this article provides some useful advice from professional dropshipping agents to help you avoid the COVID situation bringing negative impacts on your business.
How Will the Easing of COVID Restrictions in China Influence Your Dropshipping Business?
In the last three years, the global eCommerce industry has been constantly affected by the COVID-19 pandemic. Many dropshippers have been through the time when orders were delayed or even canceled due to the influence of the pandemic.
Therefore, when China declares it is going to lift the restrictions, plenty of dropshippers believe it is a good sign for the eCommerce industry.
Because it means most Chinese factories and suppliers will no longer stop production due to the restrictions policy. Also, since transportation limitations between cities are lifted, the logistics network in mainland China will be faster than before. Thus, with faster production and logistics, orders fulfilled by Chinese suppliers should also process faster.
However, since the restrictions are lifted at this particular time, the pandemic may bring more negative impacts to your dropshipping business.
Although China announces the restrictions on high-risk areas are lifted, it doesn't mean there won't be any limitations for people who are infected with COVID. According to the statement of the National Health Commission of China, asymptomatic individuals and mild cases can be isolated at home while strengthening health monitoring. Also, these people can choose to transfer to designated hospitals for treatment in a timely manner if their condition worsens.
Based on the massive population of China and countless former studies on COVID-19 cases, it is not hard to predict that the number of infected people will keep rising significantly in the following months. Take Zhejiang province, one of China's greatest business central areas as an example. When we check the COVID-19 statistics on Google, it shows the daily reported cases in December are significantly higher than before since the restrictions are lifted.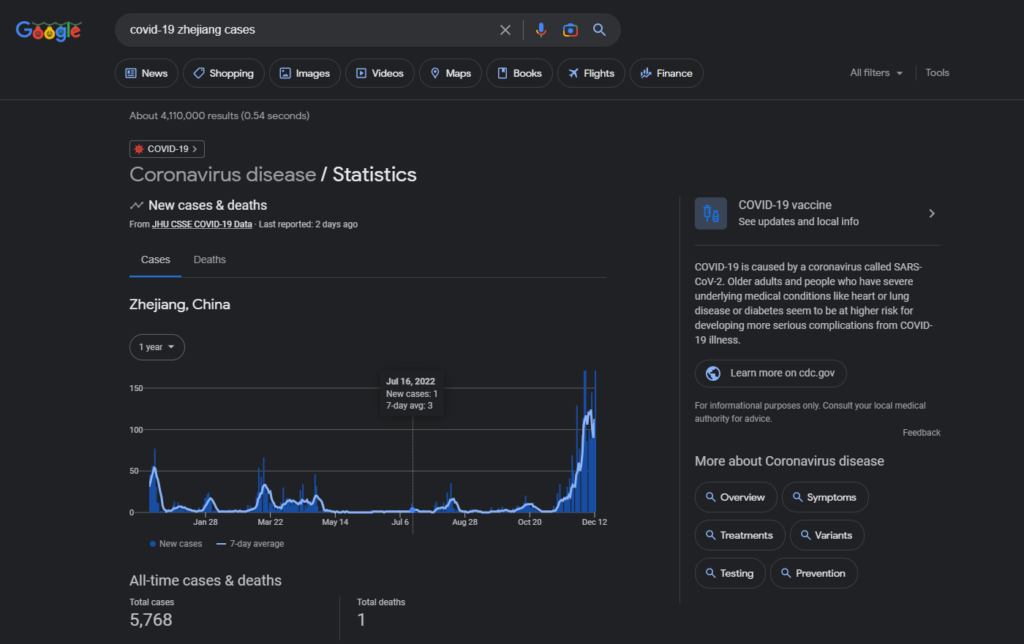 Manufacturers May Face Labor Shortage
First of all, the restrictions are lifted at a particular time when the Chinese New Year is coming. As Chinese New Year is the most important traditional festival in China, workers across the entire country will leave their workplaces temporarily to get a precious reunion with their families. Every year, this tradition will cause the largest-scale population flow in China, and by that time all kinds of transportation lines will be crowded.
However, this year more and more people may choose to return to their hometowns earlier. Since a massive number of people are getting infected in China, returning home with the crowd can be a dangerous act. Instead of being infected and transferring the virus to families, more and more workers want to avoid the crowd and stay with their families as earlier as possible.
Such a phenomenon will result in most factories in China losing manpower at the end of the year. And since the Chinese New Year event can last from fifteen days to an entire month, many factories will not able to process their orders normally for the next few months.
Eventually, the lack of labor in China will influence the global eCommerce industry. If you dropship products from China (which most dropshippers do), you may face problems like products being out of stock or factories constantly delaying your orders when the Chinese New Year comes.
Long Period Absence of Suppliers
Optimistically speaking, there might be some Chinese factories may still be open during the Chinese New Year Period. And even if your supplier is going to have a long break, you can wait for the supplier to come back after the festival ends.
However, the bitter truth is almost every single Chinese factory will close during the Chinese New Year period. Once the factories are closed, it will take at least one month for production to back to normal.
You may think that there are plenty of suppliers selling your winning product on the market, and you can change a supplier when the original one is not available. But if you have experienced Chinese New Year in the past, you will understand how hard it is to find an available supplier during the Chinese New Year.
Moreover, since the number of infected will keep increasing in the following months, most workers in China may experience COVID when they enjoy family reunions. Once the workers of your suppliers are infected, they will need to isolate themselves from the workplace and take a few weeks to recover from the sickness.
Therefore, plenty of people may not able to come back to their normal working schedule in time after the Chinese New Year. Some factories may even extend their holidays so they can have more time to deal with the influence of COVID on their workers.
Eventually, your suppliers may be absent for more than one month at the beginning of 2023. And if you do not prepare anything for the incoming impact, your dropshipping store may not be able to fulfill any orders normally.
How to Prepare Your Business for the Incoming COVID Impact?
Fortunately, there are still some possible solutions to deal with the incoming impact of COVID-19. After consulting professional dropshipping agents, we collected two useful methods that can help dropshippers to avoid the influence of COVID-19 in China.
If you want to keep your dropshipping business running normally or even scaling up in the next three months, don't forget to try these methods!
Purchasing Stock From Suppliers in Avance
The first method is buying stock for the products you want to sell in advance, then storing the products in a warehouse near your target market. For example, if your target market is in the US, then you can purchase a stock and send them to a warehouse located in the US. So when your customer places an order in your store, you can directly ship the item from the warehouse. Since the order is processed within the US, so it will not be affected by the pandemic situation in China.
When you choose which product should be included in the stock, you should always consider the products that sold best in your store. If the sales of a particular product in your store are quite stable each month, then you can purchase a stock according to the monthly order amount of the product.
Besides, using an international warehouse to stock the products is also beneficial for other aspects of your business. For example, since the products are kept in a warehouse located near the target market in advance, then your customers will no longer need to wait for the international shipping to complete. Instead of waiting for several weeks, your customers can receive the products within one week. Also, when you buy stock in bulk, suppliers usually are willing to provide a discount on your purchase.
However, the cost of an international warehouse is usually much higher than a Chinese warehouse because of the different labor costs. And you also need to plan to ship the stock one month ahead before the Chinese New Year. Thus, purchasing international warehouse inventory is mostly suitable for experienced suppliers who got enough budget.
Cooperate With a Reliable Fulfillment Service Provider
To make sure orders can be processed normally during the Chinese New Year period, some dropshippers already ordered their stock in advance from trustworthy suppliers. Thus, when the Chinese New Year comes, their products will still be available even if the factories are closed.
However, with the incoming impact of the pandemic wave in the next few months, more and more logistics companies may also not have enough labor to process orders placed during the Chinese New Year period. Therefore, even if you purchased the products in advance and stocked them in your supplier's warehouse located in China, shipment of these products can still be a problem.
Thus, cooperating with an international fulfillment service provider is one good solution to help you solve the shipment problem. If you want to know where to find available fulfillment service providers, CJdropshipping is here to help you.
On CJdropshipping, you can choose to source from various Chinese suppliers and then stock your products in CJ warehouses. Our professional warehouse staff will keep your inventory safe and sound. Once your customer places an order, the warehouse staff will send the product directly to the customer. Thus you don't have to wait for the supplier to send the products anymore.